Fees
Dear Parents,
Greetings of this festive season!
I take this opportunity to thank all those parents who stood by the School by paying the fees  and enabling us to pay our teachers and staff.
Please find below the revised fee structure during the COVID-19 pandemic.
We request those parents who are unaffected by the pandemic not to avail the waiver, so that  our concerns for the coming months ahead are resolved.
This selfless gesture on  your part will help the School immensely.
Those parents who seek waiver can pay the revised amounts for the months of November and December 2020.
Any adjustments, if necessary, will be made from the month of January 2021. For your information, the respective banks have been informed about the revised fee structure.
Thank you for your co-operation at all times,
Warm regards,
Dr. G. R. Hart
Director and CEO,
Welland Gouldsmith Schools,
Kolkata
To pay the fees online, you are requested to click on  "Pay Now" button mentioned below and => enter all details  => click show details =>  enter OTP received on your mobile =>  click submit => view fees => click the check box => select mode of payment,  i.e. Net banking, UPI, RTGS,NEFT.
Parents are requested to follow only this format of fees payment and please fill in all the required fields accordingly to pay the fees.
PAY FEES ONLINE:
For ready reference, the fee structure for 2020-2021 is given below:-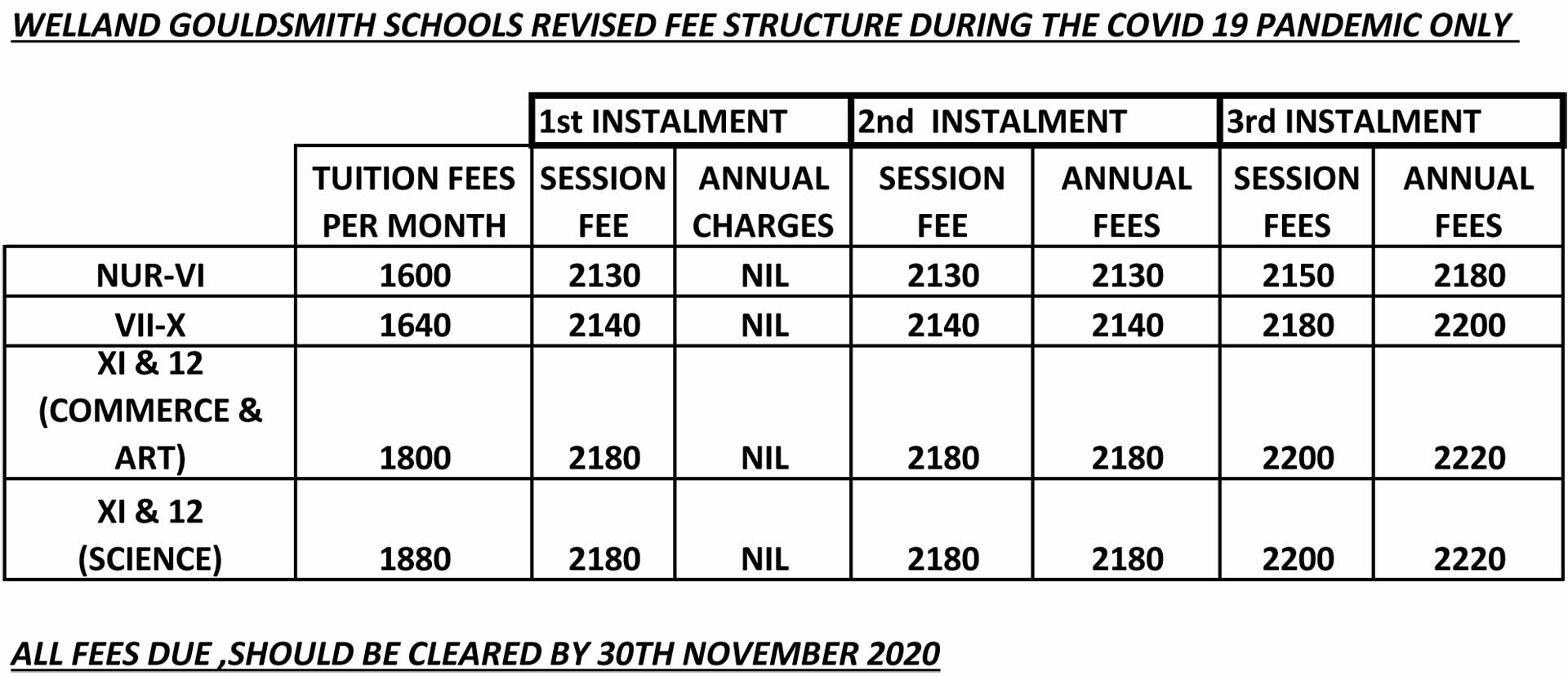 Regulations regarding submissions of fees are mentioned inside the front cover of the fee book.
To avoid any unforeseen fees submission issues, payment of fees, by cash, is to be continued as per the prevailing system only to the designated branches of ICICI bank as mentioned on the back cover of the fee book. However, you are encouraged to use the online fee payment, as this will help maintain social distancing and other restrictions imposed due to COVID-19 pandemic.